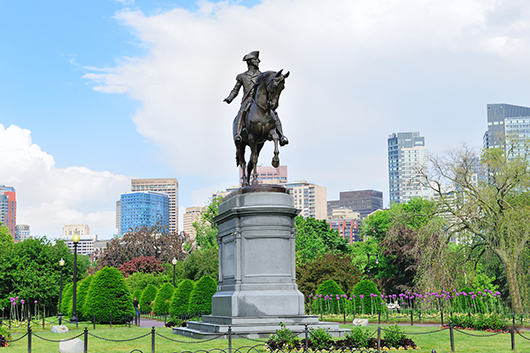 While we are headquartered in Toronto, GAO RFID Inc. is proud to serve the largest metropolitan area in New England.  With more than 7 million people calling Greater Boston their home, the opportunities are endless in this busy part of Massachusetts.  The region encompasses three major cities that serve as the commercial hub for this section of the United States.  These cities are Boston proper, Cambridge and Newton.  Many of America's most prestigious institutions are located here, including Harvard University and MIT.
Boston is regarded as New England's unofficial capital, due to its prominence within the economic and cultural landscape.  The city has one of the oldest, continuously active ports in North America.  Its exports include a variety of commodities, including grain and metals.  RFID technology is popular along Boston's coastlines.  Our company has expertise in the port and harbour sector, and our sophisticated line of RFID tags and readers are used to streamline the logistical process.  One of GAO's most in-demand products is the Asset Tracking System.  When it comes to imports and exports, knowing where your goods are is crucial.  Here are just some of the ways in which our clients have benefited:
Ability to manage shipments in real-time using GAO readers strategically placed within the environment
Easy software accessibility via web-browser with user-friendly interface
Ability to create segmented groups that manage all branches of business, without sacrificing on an integrated user experience
Although Boston's port is a source of major revenue, its educational institutions also have a significant impact on the regional economy.  With millions of students and teaching staff descending on America's most prominent colleges, security remains top priority at New England schools.  GAO's RFID Systems for the education industry such as the Access Control System allows our clients to keep a close eye on both students and visitors.  We've crafted a sophisticated badging scheme that allows operators to do the following:
Control entrance permissions using GAO's highly-intuitive Tag and Reader system
Restrict access to sensitive zones by imposing a higher tier of security to certain areas
Closely monitor the movement of all users employing unobtrusive techniques
Given Boston's famous landmarks, it is no surprise why the city is one of America's Top 10 tourist destinations.  Each year, more than 25 million people travel through Logan International Airport.  The facility serves as the major hub for Delta Air Lines, and Boston is the focal city for JetBlue Airways.  GAO's RFID Systems for the airport industry is crucial when it comes to Boston's travel sector.  Our GenTop Standalone RFID Reader Writer is the main force behind its success.  Its accompanying software allows for the multiple entry and editing of multiple airlines.  Used together, this System accurately tracks all passengers boarding their flights — maximizing security for all travelers.
From asset tracking to personnel monitoring, it is easy to see why GAO RFID has become a trusted source in Boston.  Please contact us for a personalized consultation, and discover how our team of certified RFID professionals can meet your business needs.
Our RFID systems and hardware are being used to improve productivity by these great organizations in Boston:

Founded in 1898, Northeastern is a global, experiential, research university built on a tradition of engagement with the world, creating a distinctive approach to education and research. The university offers a comprehensive range of undergraduate and graduate programs leading to degrees through the doctorate in nine colleges and schools, and select advanced degrees at graduate campuses in Charlotte, North Carolina, and Seattle.