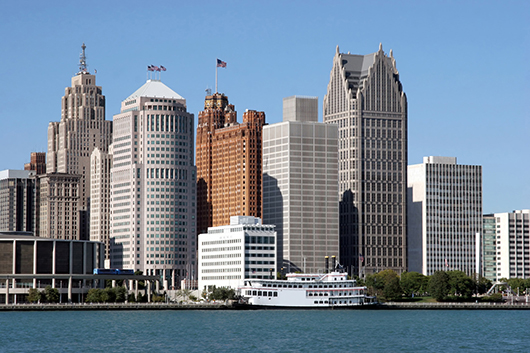 Being located nearby in Toronto, GAO RFID has been successfully delivering its full suite of RFID solutions to our customers in the Detroit area.
Being the world's automotive center, Detroit has a long and colorful history as the economic engine of Michigan.  Although the auto sector has taken a hit in recent years, Detroit's status as a resilient and resourceful city is undeniable.  More than 5 million people live in Metro Detroit, which encompasses the nearby cities of Ann Arbor, Flint, Warren and Livonia.  With the Canadian city of Windsor adjacent to Detroit, this region sees a lot of activity given its close proximity to America's largest neighbor.
GAO RFID Inc. is aware of Detroit's unique needs.  Our Systems are specially designed to handle the challenges of businesses here.  Detroit is at the center of a three-county urban area, meaning lots of U.S. corporations maintain their headquarters here.  Among them are General Motors, Blue Cross/Blue Shield of Michigan and Ally Financial to name a few–and GAO has delivered solutions to these auto manufacturing, insurance, and financial industries.  Each day, millions of people access Detroit's most prominent office buildings.  RFID technology is a huge component of building security.  GAO's Access Control System is the superior choice in this field.  We've crafted a highly intuitive badging scheme that allows our Detroit clients to do the following:
Control entrance permissions using GAO's sophisticated Tag and Reader system
Restrict access to sensitive zones by imposing a higher tier of security to certain areas
Closely monitor the movement of all users using unobtrusive techniques
Many Detroit-area businesses are linked to the region's large manufacturing sector.  GAO's Line Control & Safety RFID System is the superior choice when it comes to process control.  Production assembly lines can benefit greatly from this type of technology.  GAO's Tag and Reader systems have the capability to make "intelligent" decisions — allowing companies to maximize efficiency and streamline workflow.  Used together with our Asset Tracking System, even the most complex operations can be seamlessly integrated into the company's overall infrastructure.
We offer a series of other RFID solutions that are highly valuable in Detroit.  They include, but are not limited to:
Event Management Systems – Track attendee registration and maintain audience control
Law Enforcement RFID Systems – Manage evidence and streamline security protocols for police officers, paramedics and other public personnel
Parking Control – Ensure safe parking for all users and integrate lot with rest of building's security protocol
Experience why GAO RFID has become the trusted source in the Detroit metropolitan area.  Our team of professionals includes RFID experts who know how to manage the logistics of this vibrant, yet highly complex, city.  Discover how we can grow your business without compromising on security and customer service.
Our RFID systems and hardware are being used to improve productivity by these great organizations in Detroit:

Jack Morton is a global brand experience agency best known for event marketing, promotional marketing,digital, social and mobile, sponsorship marketing and employee engagement. The agency also has special expertise with public events, exhibits, broadcast design and moving image.
Learn how our RFID Systems can be used in the Marketing Agency industry.