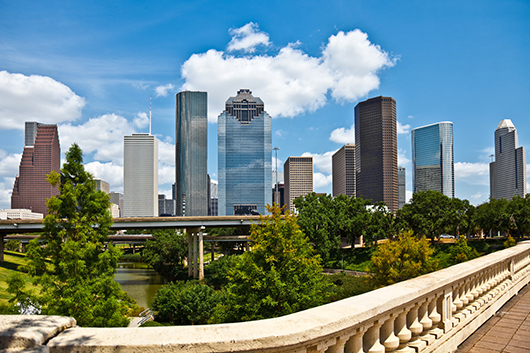 While our Head Office is located in Toronto, GAO RFID has been providing unique RFID systems to customers in both the Dallas and Houston areas.
Houston is famously known as The Space City for its enormous contribution to U.S. space exploration.  But the largest city in Texas is also one of America's most diverse — with an economic reach that goes far beyond its aeronautic expertise.  The greater metropolitan area of Houston, The Woodlands and Sugar Land is situated along the Gulf Coast.  GAO RFID Inc. offers a variety of solutions that support Greater Houston's most prominent industries, including RFID Systems for oil refinement, manufacturing and transportation.
GAO's Work In Progress (WIP) tracking system is quite useful in Houston.  Our assembly line solutions allow companies to reach quicker production speeds, while reducing material and labor costs.  Here's how GAO's clients use our WIP system effectively:
GAO RFID Tags are attached to a variety of items, such as products, shipping containers and mobile components
GAO RFID Readers are then attached to strategic stations throughout the warehouse
Readers send signals to a centralized database as tagged items move across the assembly line
GAO's WIP software provides a comprehensive breakdown of where these items are, ultimately allowing you to determine efficiency and workflow
The Port of Houston is a major contributor to the city's economic success.  It handles the highest amount of waterborne tonnage in the United States.  Although our WIP System is helpful at North American ports, GAO's Asset Tracking solutions are another popular component.  From livestock to computers, our Asset Tracking RFID System is capable of doing the following:
Manage shipments in real-time using GAO Readers strategically placed within the environment
GAO Tags transmit signals broadcasting where all valuables are at any given time
24-hour unmanned operation with no additional input needed after customized set-up
Meanwhile, the outskirts of Houston have fertile land suitable for farming.  As such, agriculture plays an important role in these suburban areas.  Each year, thousands of migrant workers come to Texas in search of seasonal employment.  GAO RFID is a leader in Personnel Tracking Systems.  Our technology uses the highest standards in security protocol — while still maintaining respect for employee privacy.  Tracking personnel allows companies to determine workflow deficiencies while ensuring employees to do not enter restricted areas.
The above are just some of the ways in which GAO RFID can help your business flourish.  Our company is a leader in RFID solutions with a special interest in Houston's growth.  Contact us today.  Our team of certified professionals will be more than happy to provide a customized assessment of your operation's needs.
Our RFID systems and hardware are being used to improve productivity by these great organizations in Houston:

American Business Services LLC is an SAP software partner focusing on specialized software. ABS has more than 18 years implementing SAP/IS-OIL for Oil and Gas companies and specializes in Terminal Automation software and hardware, rail solutions, freight processing, dispatching/planned orders, RFID and mobile device and PCB design.
Learn how our RFID Systems can be used in the Supply Chain industry.

Since 1980, Geospace Technologies has been developing innovative products for seismic data acquisition as a part of the oil and gas industry's global search for more energy reserves.
Learn how our RFID Systems can be used in the Oil & Gas industry.

Axis specializes in global procurement solutions for the North and Latin American marketplaces with over 25 years of experience in various business sectors and industries.
Learn how our RFID Systems can be used in the Logistics industry.