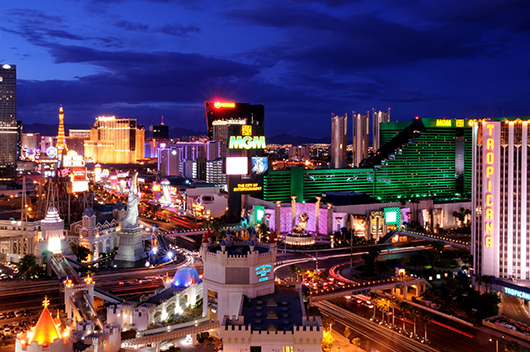 Although we are headquartered in Toronto, GAO RFID has been proudly providing RFID solutions to its customers in the Las Vegas area.
The bright lights and glamour of Las Vegas have attracted millions of tourists for years.  A world-renowned resort destination, Sin City is rightfully the economic engine of Nevada.  It also fuels the larger metropolitan area known as Las Vegas Valley.  This is a 600 square mile basin that consists of Henderson, Paradise and Boulder City.
Statistics from the Las Vegas Convention and Visitors Authority certainly prove the region's stature.  Last year alone, Vegas saw more than 40 million visitors.  Its average hotel occupancy sits at about 87%.  And when it comes to profits, consider this:  The gaming revenue in all of Clark County is $10 billion.  But gaming revenue on the Las Vegas strip alone is an astounding $6 billion.
Logistics and security are complex arenas for a city that revels in this kind of economic activity.  For nearly 10 years, GAO RFID Inc. has been working with Vegas businesses to overcome these challenges.  When it comes to security, GAO's Access Control System is the premier choice.  Sin City's 24-hour casinos and luxury hotels are accessed by millions per year.  These millions include tourists, contractors and staff employees.  GAO RFID has crafted a sophisticated badge system with the highest standards in security protocol that are perfect for the Hotels and Gaming industries.  Restrict access to sensitive areas and control entrance permissions — while easily monitoring the ins-and-outs of all users throughout the facility.
Undoubtedly the most-guarded areas of Las Vegas are its casino vaults.  GAO RFID is a pioneer in theft prevention initiatives.  Our Asset Tracking technology — coupled with our Access Control System — has allowed clients to save billions of dollars by protecting their most valuable entities.
Animal tracking is another area of speciality for GAO RFID.  Circus acts are a driving force within Vegas's entertainment realm.  Millions of visitors descend on the city to take in world-renowned shows involving many animals.  We are a pioneer in animal tracking technologies, and have custom RFID Systems for tracking and managing live animals.  Using a modernized tagging system, a variety of creatures can be accurately monitored.  This ensures not only the protection of animal assets, but also the safety of tourists watching these shows.
Our company offers many other RFID solutions that are highly valuable in Las Vegas.  They include, but are not limited to:
Event Management Systems – Track attendee registration and maintain audience control
Parking Control – Ensure safe parking for all users and integrate the facility with building management needs
RFID Systems for Law Enforcement– Optimize workflow, manage evidence and streamline security protocols for police officers, paramedics and other personnel
Experience why GAO RFID has become the trusted source in the Las Vegas area.  Our team of certified professionals are experts in managing the logistics of this vibrant, yet highly complex, city.  Contact us for a personalized consultation.  Discover how we can grow your business without compromising on security and customer service.
Our RFID systems and hardware are being used to improve productivity by these great organizations in Las Vegas:

CG Technology™ provides innovative technology and risk management solutions to the integrated resort, gaming, race and sports wagering, and lottery industries worldwide.
Learn how our RFID Systems can be used in the Gaming industry.

Computers, Inc. provides 24/7 on-site computer information technology design, installation and support, data wiring/cabling and communication services for its clients.
Learn how our RFID Systems can be used in the Information, Electronic, and Telecommunications industry.
XpoNet has been the leader in Event Internet services for more than 20 years.We delivered some of the first Internet circuits to convention spaces around the globe in the '90s and paved the way for high-speed data to become an essential part of every large technology event.
Learn how our RFID Systems can be used for Event Management.