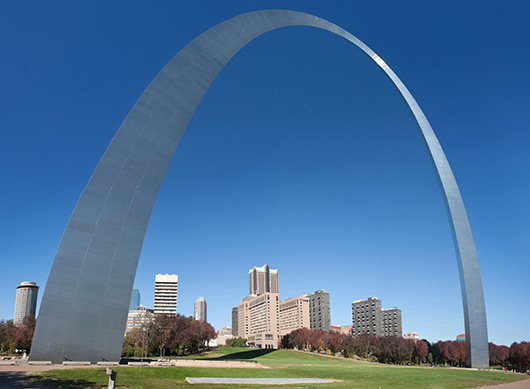 With our headquarters in Toronto, GAO RFID is able to strategically serve customers across North America, including the St. Louis area.
Situated along the Mississippi River, St. Louis is popularly known as the Gateway to the West.  The Greater St. Louis Area encompasses several Missouri counties — including Franklin, Jefferson and Lincoln — along with many other counties in Southern Illinois.  The resilient economy of St. Louis is rooted in a variety of industries, such as trade, manufacturing and the transportation of goods.  The healthcare sector is the city's largest employer with nearly 35,000 workers.  This is followed by administrative and support jobs at about 24,000.
GAO RFID Inc. offers solutions that can help St. Louis businesses reach their maximum potential.  For example, GAO's Line Control RFID System is crucial to the city's large manufacturing industry.  Use our innovative RFID tags and readers to tackle the issue of process control.  Determine the speed of moving parts or notify the assembly line that goods are approaching — using our sophisticated 'Gen 2' series technology.  Meanwhile, GAO's Asset Tracking System is the preferred choice when monitoring goods on the warehouse floor.  Track and categorize merchandise using a series of identifiers, and have them send signals to a central database as they move past various stations.  Knowing where your valuables are will not only deter theft, but will also streamline inventory operations.
St. Louis has an efficient Light Rail service that is popular among residents here.  This public transit system operates on two track lines that connect to all stations in the city.  The system also branches out beyond city limits, making this a convenient option for those commuting to St. Louis from the suburbs, and we have delivered efficient RFID Systems for the rail transport industry.  Many North American transit lines have benefitted from GAO's Railway Safety System.  In St. Louis, the priority is safety among both riders and trackside workers.  Increase transportation safety with our Emergency Braking System, which uses our UHF tags and customized RFID reader.  Using real-time technology, train operators are notified of rail workers nearby — giving them enough time to slow down and proceed cautiously.
GAO RFID offers many other solutions that our St. Louis clients find highly valuable.  They include, but are not limited to:
Parking Control – Ensure safe parking in any facility with easy monitoring of all vehicles on premises
RFID Systems for Law Enforcement – Optimize workflow, manage evidence and streamline security protocols for police officers, paramedics and other personnel
Event Management – Establish attendee registration and know your audience before the event gets underway; once underway, reduce line wait times and restrict guest access to sensitive zones
Experience why GAO RFID has become the superior source in the St. Louis area.  Our team consists of certified professionals who are experts in managing the logistics of this important American city.  Contact us for a personalized consultation.  And learn how we can grow your business without compromising on customer service and security.
Our RFID systems and hardware are being used to improve productivity by these great organizations in St. Louis:

Metro Transit is best known as the operator of the public transportation system for the St. Louis metropolitan region, with MetroLink, MetroBus andMetro Call-A-Ride. It also oversees operations of the St. Louis Downtown Airport, the Gateway Arch trams and the Gateway Arch Riverboats.
Learn more about how our RFID Systems can be used for the Transit Transportation industry.

With headquarters in St. Louis, Missouri, Whelan Security is a privately-held, family-owned company providing contract professional security services across many diverse industries and vertical markets including corporate headquarters, commercial real estate properties, financial institutions, educational campuses, manufacturing and industrial facilities, retail shopping centers, residential communities, and sensitive government facilities throughout the United States.
Learn more about how our RFID Systems can be used for the Security Services industry.