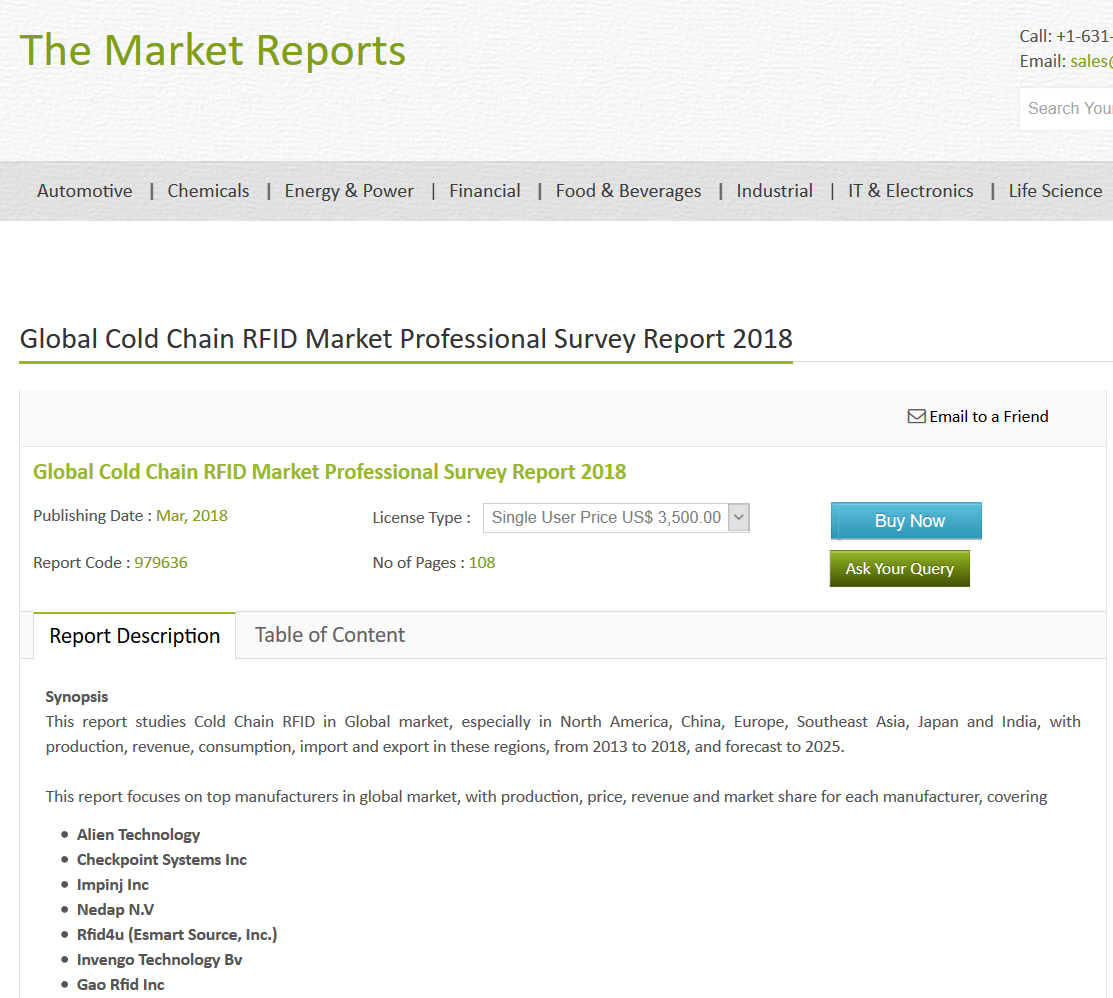 GAORFID is a world leader in RFID products, systems, and solutions. Our comprehensive selection of RFID hardware including readers and tags cover a wide range of frequencies. We also offer specialty RFID readers and tags that are customized to meet various specific needs of every industry. GAORFID also offers RFID accessories such as RFID printers, relay controllers, antennas, transmission terminals etc. With over 20 years of experience and over 1000 RFID systems deployed in more than 40 countries, GAORFID has earned itself a reputation of being a professional and reliable company.
GAORFID's success has been recognized by market research companies which carry out market research on thousands of industries worldwide. It has been recognized as a key player in several sectors across the world by the market research provider companies.
Global Cold Chain RFID Market Professional Survey Report 2018
This report studies the Global Cold Chain RFID market, especially in North America, China, Europe, Southeast Asia, Japan, and India. It analyzes production, revenue, consumption, import and export in these regions, from 2013 to 2018, and presents forecast to 2025.
This report focuses on top manufacturers in global market, with production, price, revenue and market share for each manufacturer including
Alien Technology
Checkpoint Systems Inc
Impinj Inc
Nedap N.V
Rfid4u (Esmart Source, Inc.)
Invengo Technology Bv
Gao Rfid Inc
Avery Dennison Corporation
Sato Holdings Corporation
GAORFID is recognized as one of the top players in the global cold chain RFID market. GAORFID offers an extensive range of RFID Readers and RFID Tags for the cold chain market. Our RFID Readers and RFID Tags can be used by Food & Beverages, Pharmaceutical, Biomedical and other sectors for cold chain temperature monitoring.