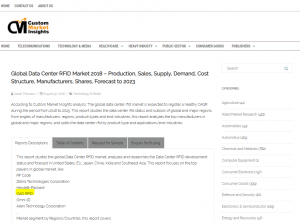 Global Data Centre RFID market report studies Data Center RFID market status and outlook from the perspective of manufactures, regions, product type, and end industry for global and major regions. The Data Center RFID development status in USA, EU, Japan, China, India, and Southeast Asia are analyzed. Top manufacturers in global and major regions are also analyzed.
Top players according to the report are-
RF Code
Zebra Technologies Corporation
Hewlett-Packard
GAO RFID
Omni-ID
Alien Technology Corporation
GAO RFID is recognized as one of the top players in the Data Center RFID market.  GAO RFID offers a complete solution for deploying RFID in Data Centers.  GAO RFID for Data Centers helps in increasing the inventory automation, accuracy of mission-critical data-center assets, Real-time location of IT assets, security management of critical IT assets, and secure media data tape tracking. GAO RFID solutions for data Center are inexpensive, accurate, and faster and increases for data Center rack based assets.
http://www.custommarketinsights.com/global-data-center-rfid-market-/109494