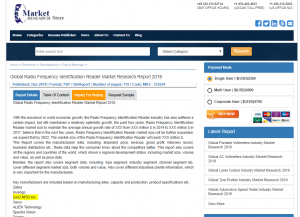 The Global RFID market research report studies how RFID Reader market showed relatively optimistic growth in spite of slow world economic growth in the past four years. Market size of RFID reader market is forecasted until 2022. Development status, market size, volume and value, and price data of RFID reader in different regions and countries are analyzed.
Key manufacturers of RFID readers listed in the report are-
Zebra
Invengo
GAO RFID Inc.
Xerox
ALIEN Technology
Spectra Vision
Trimble
Impinj
Honeywell
Datalogic
TSL
CAEN RFID
CIPHER Labs
GAO RFID is recognized as one of the key players in the RFID reader market. GAO RFID provides a wide range of RFID readers that meet the demands of various business environments. GAO RFID offers a wide selection of readers for Fixed RFID and Handheld RFID reader categories.
GAO RFID's Fixed RFID readers enable the business to transmit and receive data with the ability to read and write information onto RFID tags. GAO RFID's Handheld RFID readers enable clients to read RFID tags at any point in business; from the shop floor, showroom, to the receiving dock, and even while in transit at collection points.
https://www.marketresearchstore.com/report/global-radio-frequency-identification-reader-market-research-report-372534#