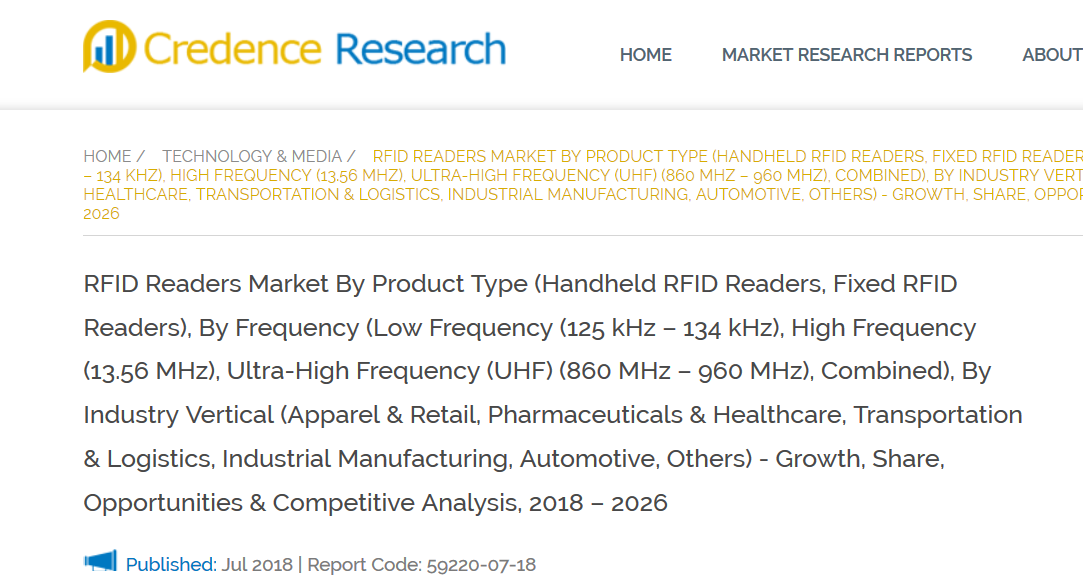 GAO RFID is a world leader in RFID products, systems and solutions. Our wide range of RFID Readers and RFID Tags, covering a broad range of frequencies are designed to meet various specific needs of every industry. We also offer RFID peripherals such as RFID printers, relay controllers, antennas, transmission terminals etc. With over 20 years of experience and over 1000 RFID systems deployed in more than 40 countries, GAORFID has earned itself a reputation of being a professional and reliable company.
GAORFID has been recognized as a key player in several sectors across the world by leading market research provider companies. GAORFID figures in several market research reports as a major global player in RFID readers, tags and systems market.
RFID Readers Market By Product Type (Handheld RFID Readers, Fixed RFID Readers), By Frequency (Low Frequency (125 kHz – 134 kHz), High Frequency (13.56 MHz), Ultra-High Frequency (UHF) (860 MHz – 960 MHz), Combined), By Industry Vertical (Apparel & Retail, Pharmaceuticals & Healthcare, Transportation & Logistics, Industrial Manufacturing, Automotive, Others) – Growth, Share, Opportunities & Competitive Analysis, 2018 – 2026
Growing Adoption of RFID Technology across Numerous Industry Verticals to Drive the RFID Readers Market
This report discusses the global RFID Readers market. The overall RFID readers market is expected to show a double digit growth (CAGR) during the forecast period from 2018 to 2026, up from US$ 2,755.3 Mn in 2017. The demand for RFID readers is expected to remain strong over the forecast period. RFID readers segment accounts for over 1/4th of the overall RFID market. Industrial and retail sectors are the main driving forces of the RFID readers market followed by personnel identification, pharmaceutical and healthcare industries.
The major players in the global RFID market are:
Zebra Technologies Corporation
Impinj, Inc.
Alien Technology Corporation
Invengo Technology Pte. Ltd.
Xerox Corporation
Honeywell Safety and Productivity Solutions
GAO RFID, Inc.
Datalogic S.p.A.
CipherLab Co., Ltd.
ThinkMagic (Trimble)
Technology Solutions UK Ltd. (TSL)
GAORFID is recognized as one of the key players in the RFID Reader market.
GAO RFID offers an extensive range of RFID Readers to meet the demands of every industry, every business. Our RFID readers are easily compatible with many RFID Tags as well as barcodes. They are available in different frequencies such 2.45 GHz, 433 MHz, UHF (902-928 MHz), UHF (865-868 MHz), HF (13.56 MHz), LF (134 KHz) and LF (125 KHz) . Handheld RFID readers segment is expected to continue its dominance in the market and GAORFID a large selection of handheld RFID readers for various applications.
We have RFID readers that can be used on a manufacturing shop floor or even on an offshore drilling rig. Whatever the environment, we have a reader for that.