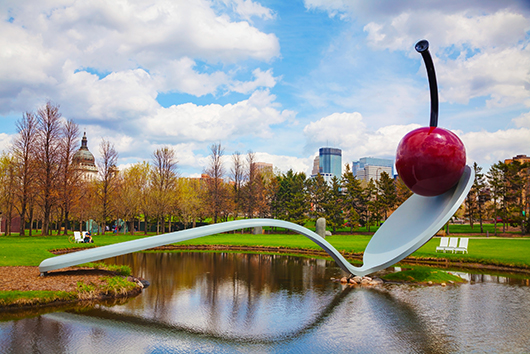 Although we are a Toronto-based company, GAO RFID has been proudly deploying RFID hardware and system solutions to customers in the Minneapolis-St. Paul area.
The Twin Cities are a source of pride in America's Midwest.  With a population of more than 4 million, Minneapolis and St. Paul are the driving forces behind Minnesota's prominence in this part of the country.  Despite the 'Twin' nickname, the two cities are actually quite different from each other in style.  Minneapolis is lined with glass skyscrapers that exude a modernized atmosphere.  But St. Paul has a distinctly European flavor with late-Victorian architecture and small communities.
GAO RFID Inc. is proud to serve such a unique region of the United States.  Our company offers a host of solutions for a variety of prominent industries in this area, especially the medical device manufacturing industry.  The Twin Cities are home to nearly all of Minnesota's Fortune 500 companies.  And it is the second largest medical device manufacturer in the country.
In addition, GAO's Personnel Tracking RFID System is the preferred choice when managing the millions of workers in Minneapolis-St. Paul.  Using a combination of our tags, readers and software — our clients are able to track their personnel using unobtrusive techniques.  Install GAO RFID readers at strategic points within your facility and use them in conjunction with our modernized Badging System.  From the agricultural industry to building management, all of these components will work together seamlessly to increase workplace safety.
Many workers within the Twin Cities commute by Metro Transit.  This is the largest bus provider in the U.S. Midwest, responsible for more than 95% of public transit rides in the region.  Although bus service is popular, the municipalities have been considering a high-speed rail line that would connect to Chicago.  GAO RFID is a leader in Rail Safety Management.  When designing such systems for the rail transportation industry, trackside worker safety is a major concern for Minneapolis-St. Paul.  But GAO is able to provide expert consulting services in RFID technology — ultimately raising the safety barometer by introducing higher safety protocols.
When citizens here are not working, many of them are enjoying the vast network of parks and attractions.  Because this area is well-serviced recreationally, festivals and celebrations are a popular aspect of daily life.  GAO's Event Management System makes it easy for our Twin Cities clients to manage public events effectively.  Our software gives you the power to establish attendee registration and analyze your audience.  Couple that with GAO's Personnel Tracking System — and even the biggest event facilities become safe territory that all visitors can enjoy.
Our company offers many other solutions that are highly valuable in Minneapolis-St. Paul.  Experience why GAO RFID has become the trusted source in the American Midwest.  Our team knows how to managing the logistics of this vibrant, yet highly complex, region.  Contact us for a personalized consultation.  And discover how we can grow your business without compromising on security and customer service.
Our RFID systems and hardware are being used to improve productivity by these great organizations in Minneapolis-St. Paul:

Applied CIM Technologies was incorporated in the fall of 1989. For over twenty years, its team of software developers and engineers have designed, sold, and supported computer integrated manufacturing applications, including CAD/CAM, distributed numerical control, and tool management software.
Learn more about how our RFID Systems can be used in the Computer Systems Design industry.

Logic PD is the complete product lifecycle solutions company for connected offerings serving the world's most demanding markets.  With services in analytics and research; design, engineering and manufacturing; and product support services, Logic PD helps clients to optimize their solutions to meet today's user and business needs.
Learn more about how our RFID Systems can be used in the Research, Technology & Professional Services industries.

The University of Minnesota Twin Cities is a public research university located in Minneapolis and St. Paul, Minnesota and is the oldest and largest campus within the University of Minnesota system and has the sixth-largest main campus student body in the United States
Learn more about how our RFID Systems can be used in the Education industry.