<![CDATA[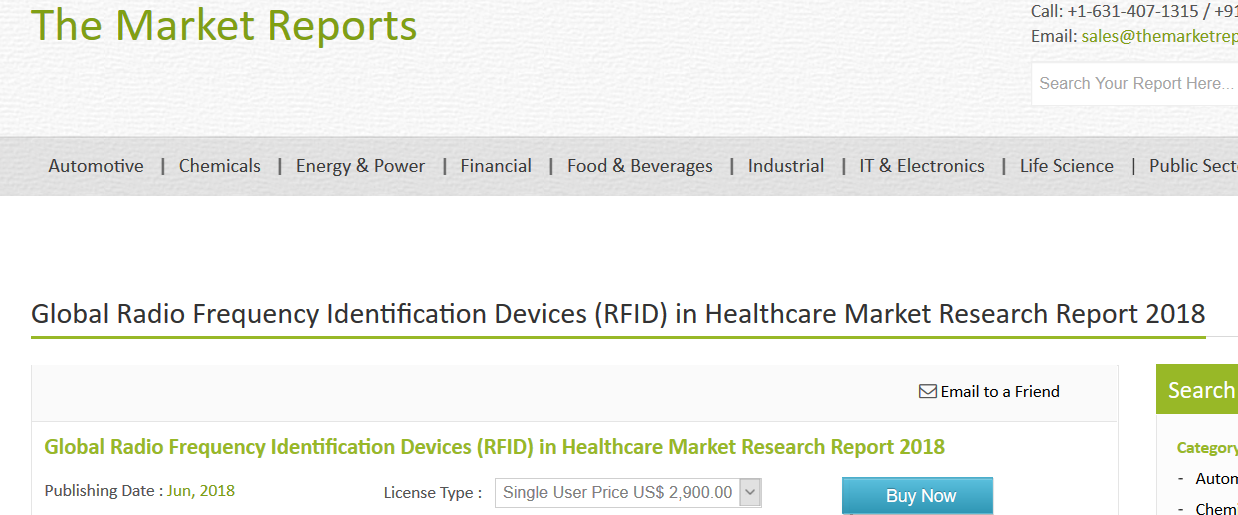 GAO RFID is a world leader in RFID products, systems, and solutions. Our large selection of RFID hardware including readers and tags cover a broad range of frequencies. We also offer specialty RFID readers and tags that are customized to meet various specific needs of every industry. Not only that GAORFID also offers RFID peripherals such as RFID printers, relay controllers, antennas, transmission terminals etc. With over 20 years of experience and over 1000 RFID systems deployed in more than 40 countries, GAORFID has earned itself a reputation of being a professional and reliable company. GAORFID's success has been recognized by market research companies which carry out market research on thousands of industries worldwide. It has been recognized as a key player in several sectors across the world by the market research provider companies. Global Radio Frequency Identification Devices (RFID) in Healthcare Market Research Report 2018 This report studies the global Radio Frequency Identification Devices (RFID) in the Healthcare market. It provides the current status of the market and presents forecast to 2025. The report categorizes Healthcare market size (value & volume) by key players, type, application, and region. The Global Radio Frequency Identification Devices (RFID) in Healthcare Market Research Report analyzes key regions such as North America, Europe, China, Japan, Southeast-Asia and India. It focuses on the top players in North America, Europe, Asia-Pacific, South America, and Middle East & Africa. The top manufacturers mentioned in this report are:
Awarepoint Corporation
Caen Rfid Srl
Dolphin Rfid Pvt. Ltd.
Ekahau, Inc.
Gao Rfid Inc.
Impinj, Inc.
Intermec (Honeywell International Inc.)
Logitag Systems Ltd.
Metratec Gmbh
Radianse
Smartrac N.V.
Sonitor Rtls Technologies
Stanley Innerspace
Stid Electronic Identification
Tagsys Rfid Group, Inc. (Cxignited)
Thingmagic, Inc.
Vizbee Rfid Solutions
Wavemark
GAORFID is recognized as one of the major manufacturers of RFID products for the healthcare sector.
GAO RFID for Healthcare
GAORFID provides a wide range of solutions for the healthcare sector. Our
RFID Readers
,
RFID Tags
, and RFID
Systems
&
Software
are ideal for use in healthcare for performing tasks like inventory management, patient monitoring & tracking, medication authentication and control, access control etc. ]]>