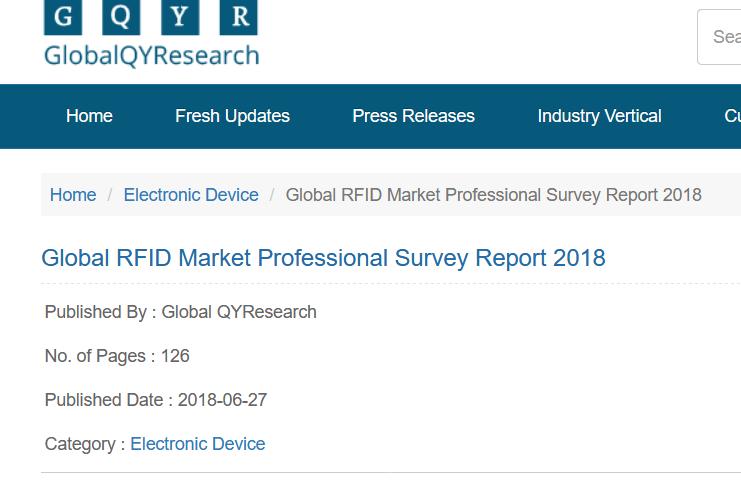 GAORFID is a worldwide leader in RFID products, systems, and solutions. It offers a wide range of RFID products including readers and tags over a broad range of frequencies. GAORFID also offer specialty RFID readers and tags that are customized to meet various specific needs of every industry. GAORFID has a large selection of RFID peripherals such as RFID printers, relay controllers, antennas, transmission terminals etc. With over 20 years of experience and over 1000 RFID systems deployed in more than 40 countries, GAORFID has earned itself a reputation of being a professional and reliable company.
GAORFID has been recognized as a key player in several sectors across the world by leading market research provider companies. GAORFID figures in several market research reports as a major global player in RFID readers, tags and systems market.
Global RFID Market Professional Survey Report 2018
This report analyzes the global RFID market status and categorizes the global RFID market size (value & volume) by manufacturers, type, application, and region. It focuses on the top manufacturers in North America, Europe, Japan, China, India, Southeast Asia and other regions (Central & South America, and the Middle East & Africa).
The report studies the top producers and consumers, focuses on product capacity, production, value, consumption, market share and growth opportunity in key regions such as North America,
Europe, China, Japan, India, Southeast Asia, Other regions (Central & South America, Middle East & Africa).
The major manufacturers evaluated in this report are:
Alien Technology
Applied Wireless RFID
Avery Dennison
Caen RFID
Checkpoint Systems
GAO RFID
Globeranger
Impinj
Invengo
Mojix
Motorola
Nedap
NXP Semiconductors
On the basis of product, this report is primarily split into
Tags
Readers
Software
Others
By Application, the market can be split into
Transportation
Agriculture
Healthcare
Logistic
Aerospace
Retail
Security and Access Control
Others
GAORFID is recognized as one of the top manufacturers in the global RFID market.
GAORFID offers a wide range of RFID Readers, RFID Tags, Systems and Software. Our RFID readers, tags and software are suitable for industries such as transportation, retail, agriculture, healthcare, logistics, aerospace, to name a few.