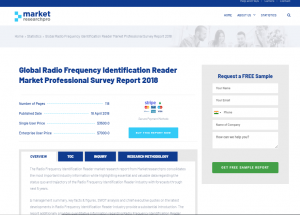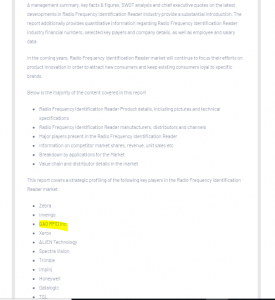 The Global Radio Frequency Identification (RFID) reader market report provides data regarding the status quo and market trajectory of RFID reader market for the next 5 years. Product innovation would be a major driver for RFID Reader market growth. RFID reader industry financial numbers and key players in the industry are analyzed.
Key players in the Radio Frequency Identification Reader market are-
Zebra
Invengo
GAO RFID Inc.
Xerox
ALIEN Technology
Spectra Vision
Trimble
Impinj
Honeywell
Datalogic
TSL
CAEN RFID
CIPHER Labs
Unitech
GAO RFID reader is profiled as one of the key players in the RFID reader market. GAO RFID provides a wide range of RFID readers that meet the demands of various business environments. GAO RFID offers a complete selection of readers for tags that Utilizes High-Frequency UHF (865-868 MHz/902-928 MHz/2.45 GHz/433 MHz), High-Frequency HF (13.56 MHz), or Low-Frequency LF (125 kHz).
https://marketresearchpro.net/global-radio-frequency-identification-reader-market-professional-survey-report-2018/