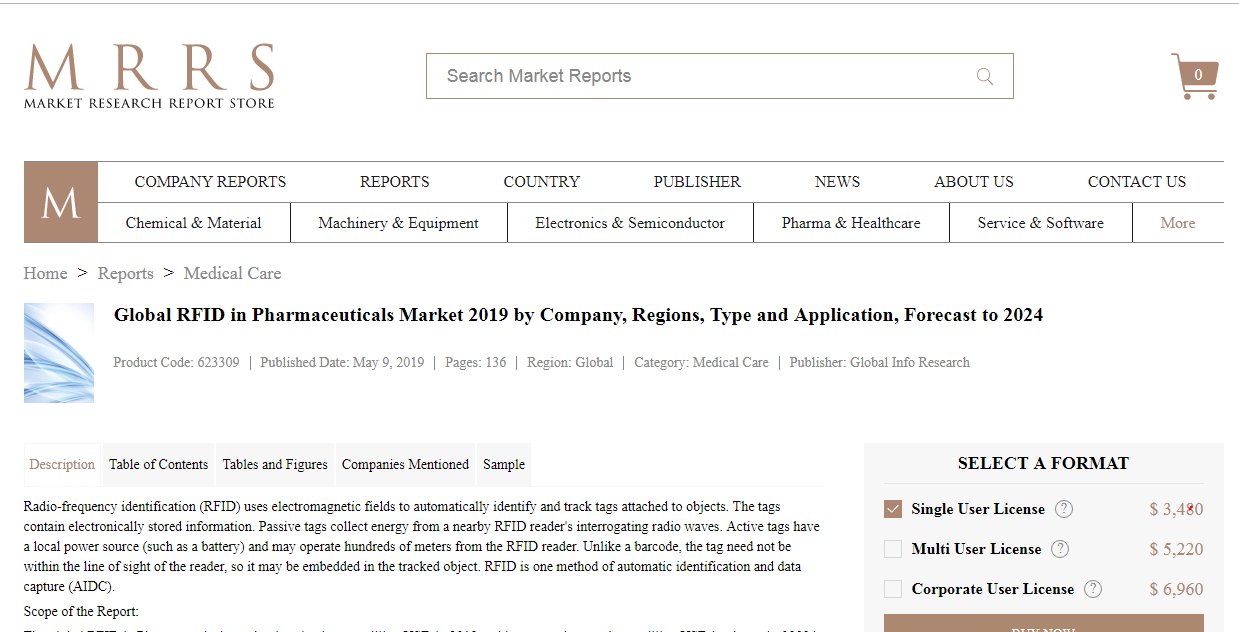 Radio-frequency identification (RFID) uses electromagnetic fields to automatically identify and track tags attached to objects. The tags contain electronically stored information. Passive tags collect energy from a nearby RFID reader's interrogating radio waves. Active tags have a local power source (such as a battery) and may operate hundreds of meters from the RFID reader. Unlike a barcode, the tag need not be within the line of sight of the reader, so it may be embedded in the tracked object. RFID is one method of automatic identification and data capture (AIDC).
This report consists of comprehensive market data on a granular level including price, cost, sales, revenue, gross margin, market size, market share, etc. The global RFID in Pharmaceuticals market is valued at xx million USD in 2018 and is expected to reach xx million USD by the end of 2024, growing at a CAGR of xx% between 2019 and 2024.
Major players are,
Honeywell
Zebra Technologies
Impinj
Invengo Technology
IBM
Smartrac
Aucxis
Turck Korea
Datalogic
Unitech
HID Global
CCL Label
Xerox Corporation
Fieg Electronics
JADAK
Texas Instrument
TSL
CSL
GAO RFID
Alien Technology
Cipher Lab
Sense Technology
Chafon Group
GAO RFID is considered as one of the major manufacturers in Radio frequency identification Pharmaceutical market. GAO RFID offers a wide range of RFID tags to meet the demands of every business environment. GAO RFID readers are designed to comply with global frequency
standards thus making them compatible with most RFID Tags. GAO RFID now offers an ultra-high frequency semi-passive temperature logger tag, suited for recording temperatures of sensitive food products and chemical/pharmaceutical products during transportation and storage. Integrating our multitude of RFID tags into your medical environment will enable automated processes that end up saving your organization costs on labor and reducing the chance of human error.