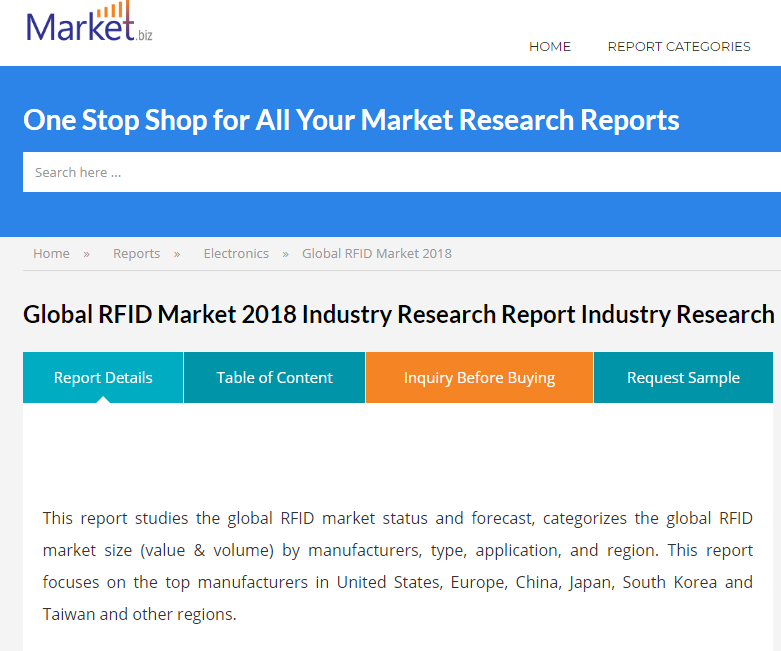 The Global RFID Market industry research report studies market size, industry status of Global RFID market. Competition landscape and growth opportunity during 2018-2025 are forecasted. Due to the adoption of RFID technology and the presence of well-established key players in the region, North America is to remain dominant in the industry.
Key Players in the global RFID market according to the report are
Datalogic
Honeywell International
Zebra Technologies
Acreo Swedish ICT
Alien Technology
Avery Dennison
Checkpoint Systems
CipherLab
CoreRFID
FEIG ELECTRONIC
Fujitsu
GAO RFID
Impinj
ORBCOMM
Quantum Resources
Mojix
Mobile Aspects
Nedap
RFID4U
RF Ideas
Skytron
JADAK Technologies
Solstice Medical
Smartrac
Stanley InnerSpace
SATO VICINITY
TAGSYS RFID
Terso Solutions
Tellago
TIBCO Software
Tyco Retail Solutions
Thinfilm
ThingMagic
Unitech Electronics
WaveMark
Xterprise
The GAO RFID is recognized as one of the top global players in the RFID market. GAO RFID offers one of the world's largest selections of RFID hardware and systems across all RFID technologies. GAO RFID provides products in all the product segments in the market such as Tags, Readers, Antennas, and Software.
GAO RFID offers a wide range of products in each of the segments in the RFID Market.
https://market.biz/report/global-rfid-market-2018/258040/#details