What is Lab Asset Track?
Medical Laboratories and hospitals come equipped with a large number of expensive equipment crucial to carrying out tests on patients and biological specimens. These may be portable or fixed assets worth thousands of dollars, such as ultrasound machines, x-ray machines, MRI scanners, PET and CT scanners, life support equipment such as ventilators, heart-lung machines, dialysis machines, etc.  All of these need to be tracked and their maintenance schedules should be updated and followed regularly to ensure optimum performance.
Without a good tracking system, these devices are vulnerable to maintenance lapses resulting in reduced reliability, reduced life, and asset theft. Additionally, locating them becomes a tedious and time consuming task. A lot of time is wasted searching for the correct equipment, and manually tallying and updating their maintenance schedules. Lab Track's Asset Track system is designed to address all of these issues effectively.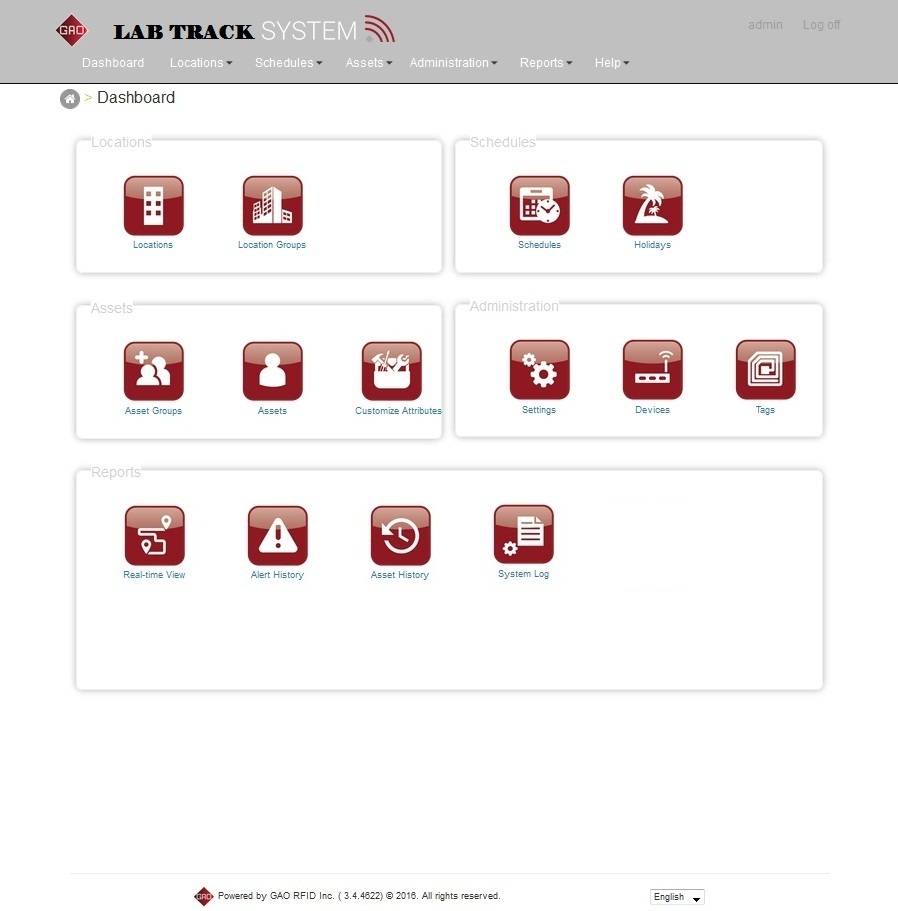 RFID Choices for Tracking Lab Equipment
RFID Technology is available in different configurations to help locate and track valuable lab equipment based on your laboratory environment.
SRD (Short Reading Distance) RFID
Typically implemented with high frequency RFID, sometimes with low frequency RFID.

Reading distance is typically up to 4 inches (about 10cm)and tag scan be read at close proximity one by one.

Available in small sizes that can be easily affixed to even small asset.

Close proximity identification of lab asset.

Mount-on-metal tags available for lab asset with metallic frames.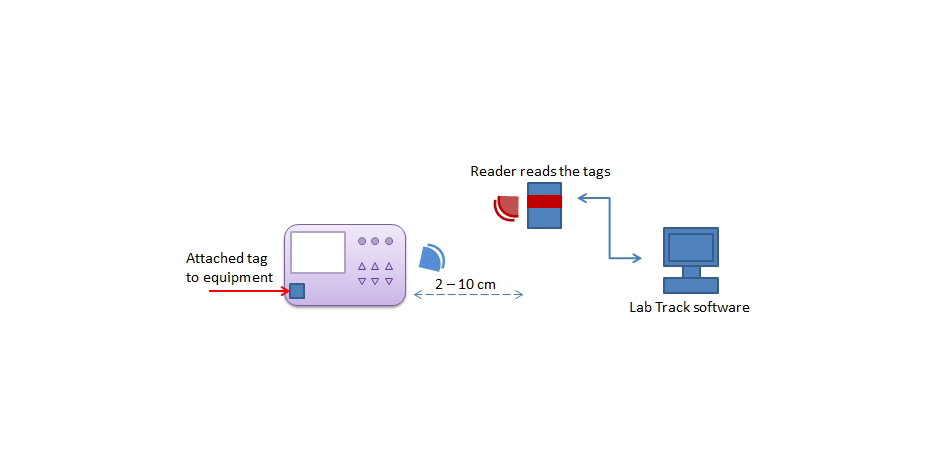 MRD (Medium Reading Distance) RFID:
Implemented with the EPC Gen 2 ultra high frequency RFID

Reading distance is typically between 3- 15 feet (about 1 to 5 meters)

Available in small sizes that can be easily affixed to even small assets.

Ability to quickly identify 100+ assets

MRD tags are comparable wirg SRD tags while MRD readers are more expensive. However, MRD systems offer many advantages as a result of longer reading distances, and simultaneous and fast multi-readings.

Mount-on-metal tags available for lab assets with metallic frames.

This is the most common RFID choice for asset tracking.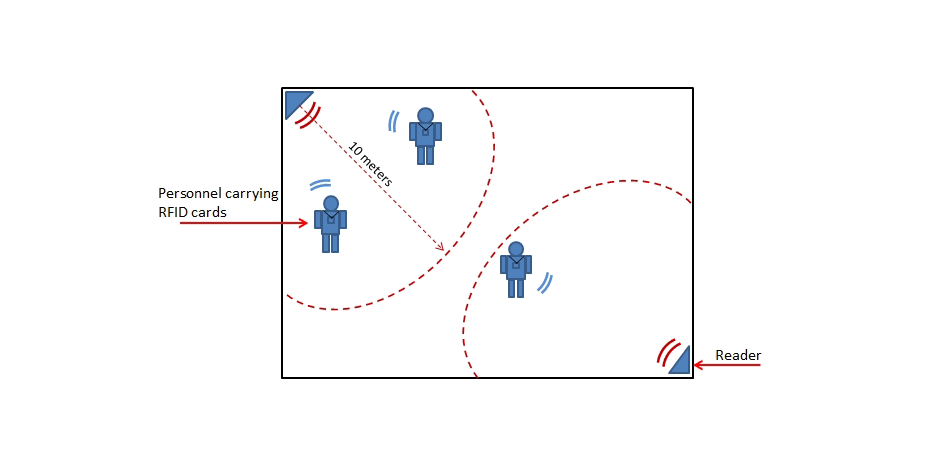 LRD (Long Reading Distance) RFID
Typically implemented with the active 2.45 GHz RFID, sometimes with the active 433 MHz RFID

Reading distance between 100-330 feet (30 meters to 100 meters), hence very effective for asset tracking.

Such long reading distance results in lower tracking resolution, making it difficult to pinpoint an exact location. However, having gain adjustable readers with directional antenna(s) or in a multiple reader configuration can be used to improve this.

Especially useful to track assets that are moved inside as well as outside premises, for example, patient stretchers, wheelchairs, or EMS equipment.

As LRD tags are normally read by reader continuously, they can also be used in transportation of equipment to ensure all equipment remains in the vehicle for the entire period of its transport.

An attempt at removing equipment can trig an alert if a special tag is used.

Tags are typically battery powered, hence bigger and more expensive than LRD and MRD tags.
Adding GPS to LD
GPS installed in vehicle ensures real time tracking of assets being transported between lab facilities.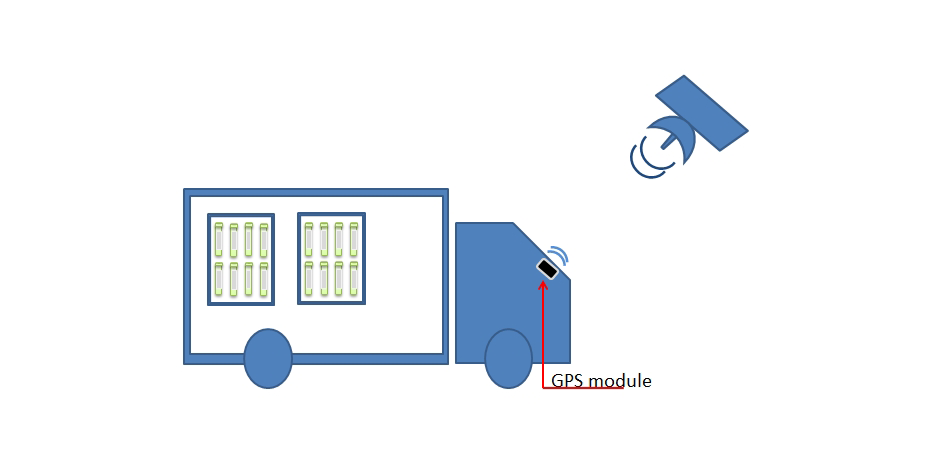 We have the technology to support you.  We can help tailor a Lab Track system around your healthcare client's needs including custom reports and software solutions combined with all the right hardware to help track the most important assets in the healthcare environment.
Our experts are here to help you with all questions, needs and support.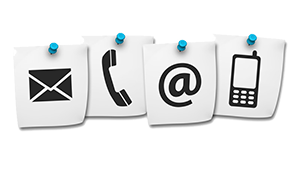 Would you like to know more about the Lab Asset Track System and how it can be used in your laboratory environment?
Please contact us and one of our experienced sales staff would be more than happy to answer all your questions!