What is Lab Specimen Track?
Tracking biological specimens is an important and time consuming part of a medical lab's diagnostic process.   Biological samples such as blood, urine, tissues, etc. are collected from patients before being sent for testing. The challenges usually surrounding a lab environment involve the loss of samples, loss of time looking for samples, and labeling or reading errors.
Medical decisions are made based on the outcomes of the diagnostic testing. It therefore becomes critically important to capture and record patient and specimen data correctly, track its locations, quality, and complete history precisely at every point of the testing process. Specimen Track is a smart RFID solution that addresses all of these issues effectively.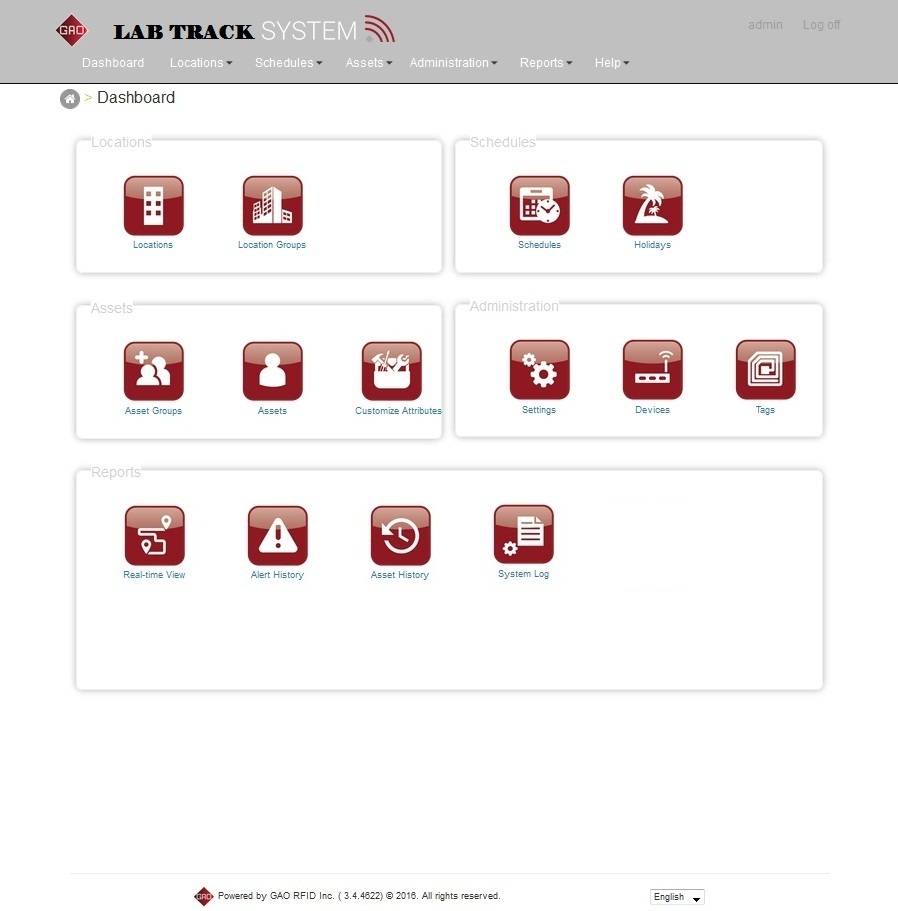 RFID Choices for Specimen Track in Your Lab
RFID Technology is used to identify and track samples and are available in different configurations to suit the environment.
SRD (Short Reading Distance) RFID:
Typically implemented with high frequency RFID, sometimes with low frequency RFID.

Reading distance is typically up to 4 inches (about 10cm) and tags can be read one by one.

Available in small sizes that can be easily affixed to individual vials and various specimen containers.

Typical uses include identification and tracking of individual vials for urine, blood and other specimens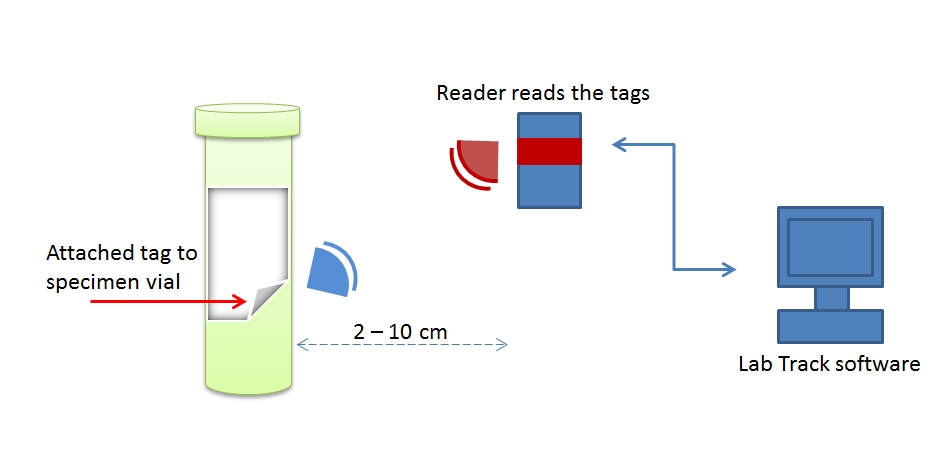 MRD (Medium Reading Distance) RFID:
Implemented with the EPC Gen 2 ultra high frequency RFID

Reading distance is typically between 3-15 feet (about 1 to 5 meters), depending on the specific tags and readers used.

Available in small sizes that can be easily affixed to individual vials.

Ability to quickly identify about 100 specimen vials

Costs of MRD tags are comparable with SRD tags while MRD readers are more expensive. However, MRD systems offer many advantages as a result of longer reading distances, and simultaneous and fast multi-readings. Typical use include bulk reading of specimens in a box or tray.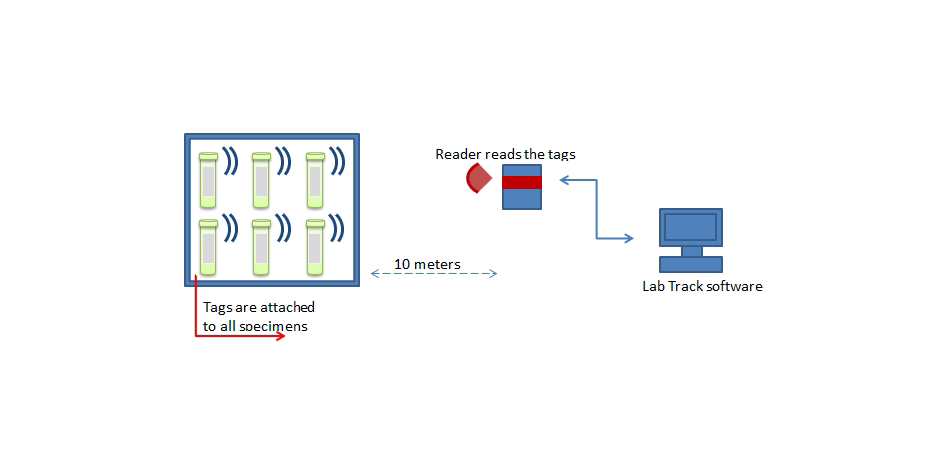 LRD (Long Reading Distance) RFID:
Typically implemented with the active 2.45 GHz RFID, or active 433 MHz RFID.

Reading distance between 100-300 feet (about 30 to 100 meters)

Tags are typically battery powered; hence tags are bigger and more expensive than LRD and MRD tags.

Tags are large and cannot be applied to individual vials.

Tags are typically applied to a box containing many

Typical use includes tracking specimens during moving between different areas in a labor during transportation between different lab facilities. These are also used for monitoring and tracking temperature changes during storage or transportation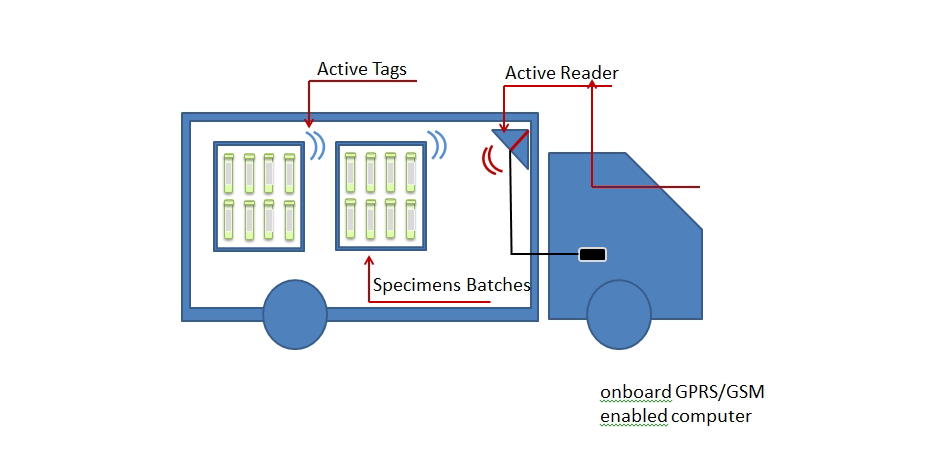 How LDR specimen tracking can work:
LRD tags are attached to boxes to ensure their presence in the vehicle at all times while being transported.

LRD temperature tags can trigger alerts in case specimen integrity (storage temperature) gets compromised

Data is sent to main application database wirelessly through on-vehicle computer which may be equipped with Ethernet cable/Wi-Fi/GSM/GPRS.
Adding GPS to LDR
Real time tracking of specimen shipments while they are being transported over from a collecting point to a lab, or between labs.

Accurate location co-ordinates with data such as current position and estimated time of arrival.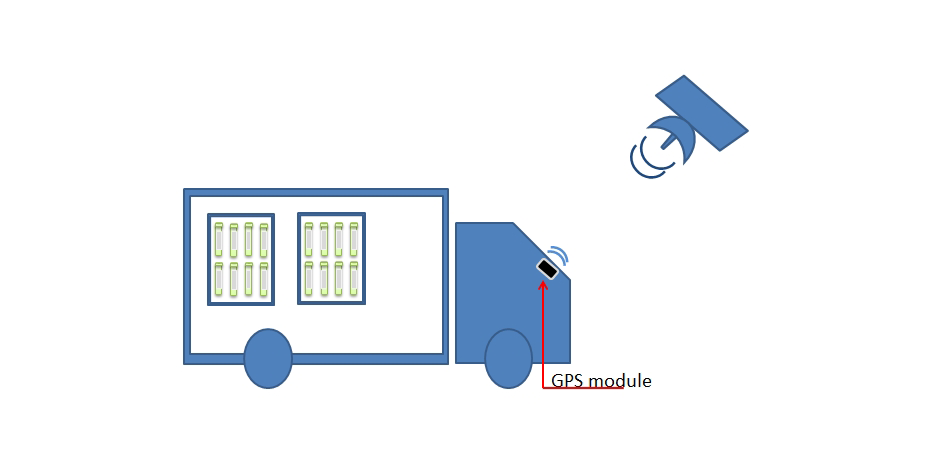 We have the technology to support you.  We can help tailor a Lab Track system around your healthcare client's needs including custom reports and software solutions combined with all the right hardware to help track the most important assets in the healthcare environment.
Our experts are here to help you with all questions, needs and support.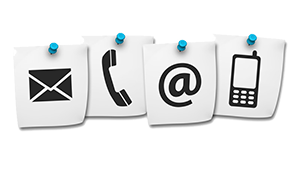 Would you like to know more about the Lab Specimen Track System and how it can be used in your laboratory environment?
Please contact us and one of our experienced sales staff would be more than happy to answer all your questions!