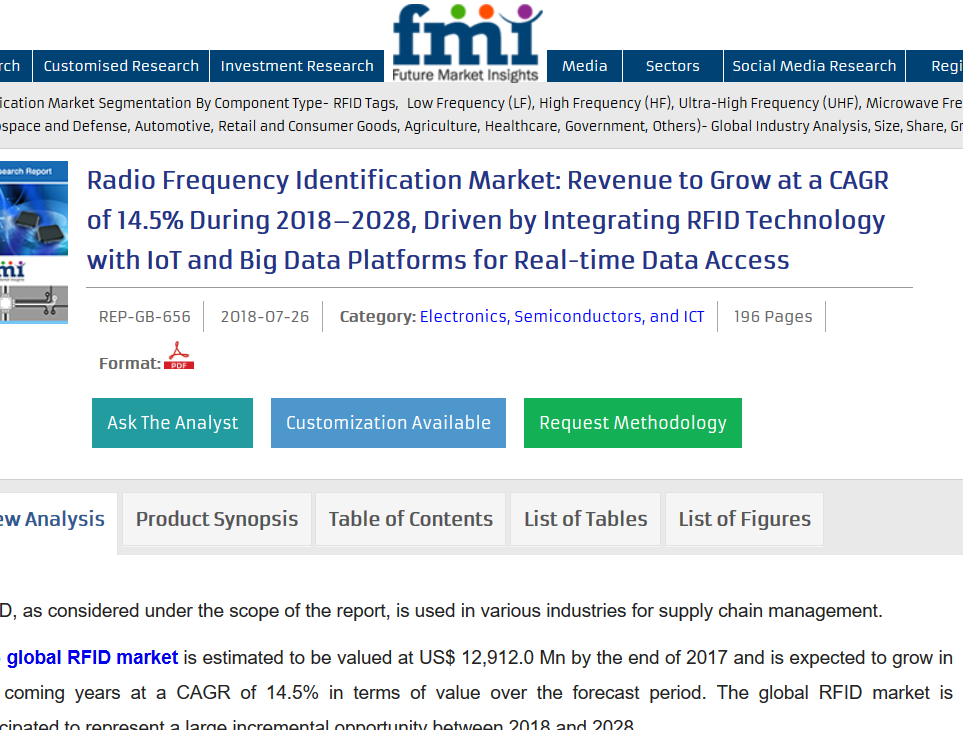 GAORFID is a world leader in RFID products, systems, and solutions. We have a large selection of RFID Readers and RFID Tags with a wide range of frequencies. We also offer specialty RFID readers and tags that are customized to meet various specific needs of every industry. Not only that GAORFID also offers RFID printers, relay controllers, antennas, transmission terminals etc. With over 20 years of experience and over 1000 RFID systems deployed in more than 40 countries, GAORFID has earned itself a reputation of being a professional and reliable company.
GAORFID has been recognized as a key player in several sectors across the world by leading market research provider companies. GAORFID figures in several market research reports as a major global player in RFID readers, tags and systems market.
Radio Frequency Identification Market: Revenue to Grow at a CAGR of 14.5% During 2018–2028, Driven by Integrating RFID Technology with IoT and Big Data Platforms for Real-time Data Access
This report discusses the global RFID market which is expected to grow in the coming years at a CAGR of 14.5% in terms of value over the forecast period. Logistics & transportation, aerospace & defense, automotive, retail & consumer goods, agriculture, healthcare, government, and others are expected to drive the growth of the RFID market. Moreover, top manufacturers are focusing on the integration of RFID with IoT to be able to identify an object and its real-time location.
The top market vendors in the global RFID market include Zebra Technologies Corporation; HID Global Corporation; Thin Film Electronics ASA; Invengo Information Technology Co., Ltd.; GAO RFID Inc.; Impinj, Inc.; Xerox Corporation; Omni-ID; Alien Technology, LLC and Molex, LLC.
GAORFID is recognized as one of the top vendors in the global RFID market for its ability to integrate RFID Technology with IoT and Big Data Platforms for Real-time Data Access.
GAORFID offers a comprehensive range of RFID Readers, RFID Tags and Systems for monitoring the location and movement of assets & equipment across multiple locations or in a particular area. GAORFID Real-Time Location Systems (RTLS) can be applied in various industries like retail, healthcare etc.