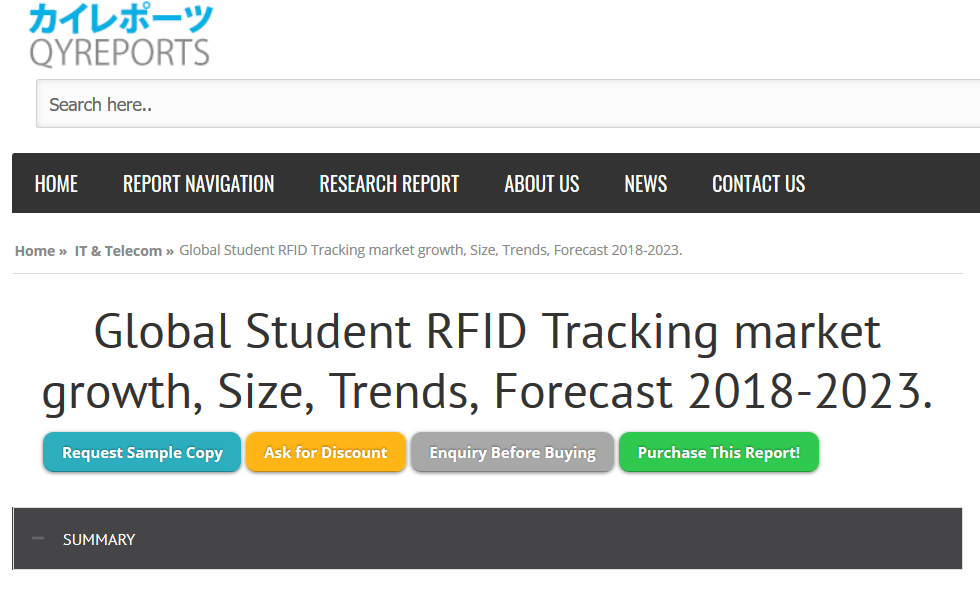 GAORFID is a world leader in RFID products, systems and solutions. We offer a comprehensive selection of RFID Readers and RFID Tags covering a broad range of frequencies. We also offer RFID readers and tags that are customized to meet various specific needs of every industry. Not only that GAORFID also offers RFID peripherals such as RFID printers, relay controllers, antennas, transmission terminals etc. With over 20 years of experience and over 1000 RFID systems deployed in more than 40 countries, GAORFID has earned itself a reputation of being a professional and reliable company.
GAORFID's success has been recognized by market research companies which carry out market research on thousands of industries worldwide. It has been recognized as a key player in several sectors across the world by the market research provider companies.
Global Student RFID Tracking market growth, Size, Trends, Forecast 2018-2023
This report studies the global Student RFID Tracking market. It analyzes the Student RFID Tracking development status in 2018 and presents forecast to 2023. It is anticipated that the Global Student RFID Tracking Market will show significant growth over the coming years.
The report provides information on the technological advancements that are bound to take place in the coming years or are currently taking place in the market. Furthermore, the threats faced by the main player's dominant in the global Student RFID Tracking market have been highlighted.
The prominent vendors in the market are Northstar (Bangalore, India.), GAO RFID (Ontario, U.S.), and Coresonant Systems Pvt Ltd (India).
GAORFID is recognized as one of the top players in the global Student RFID Tracking market. Our RFID Readers, RFID Tags and Systems to help in tracking the movement of every student inside school, inside the bus etc. GAORFID products can also be used for automated attendance tracking which leads to time saving. RFID cards are used for tracking guests inside the school premises. This enhances security of students.