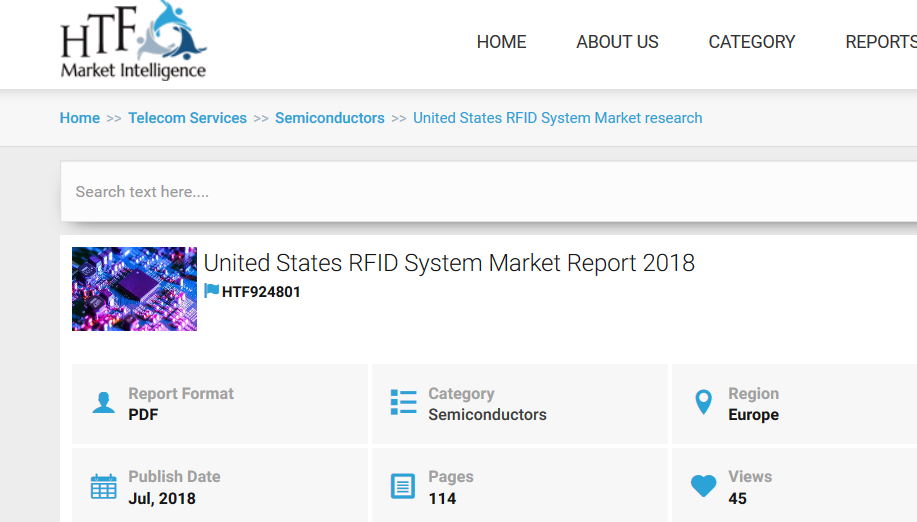 GAORFID is a world leader in RFID products, systems and solutions. Our large selection of RFID hardware including readers and tags cover a broad range of frequencies. We also customized systems and softwares to meet the needs of various industries. Not only that GAORFID also offers RFID peripherals such as RFID printers, relay controllers, antennas, transmission terminals etc. With over 20 years of experience and over 1000 RFID systems deployed in more than 40 countries, GAORFID has earned itself a reputation of being a professional and reliable company.
GAORFID has been recognized as a key player in several sectors across the world by leading market research provider companies. GAORFID figures in several market research reports as a major global player in RFID readers, tags and systems market.
United States RFID System Market Report 2018
This report analyzes the United States RFID system market. It evaluates the market in regions like The West, Southwest, The Middle Atlantic, New England, The South, and The Midwest and provides information about sales, revenue, market share and growth rate of RFID System in these regions from 2013 and present forecast to 2025.
The report mentions United States RFID System market competition by top manufacturers/players, with RFID System sales volume, price, revenue (Million USD) and market share for top manufacturers/players including
Siemens
Motorola
Alien Technology
CAEN RFID
Applied Wireless RFID
Impinj
Mojix
ThingMagic
NXP Semiconductors
Gao RFID
CoreRFID
Confidex
Vizinex RFID
GAORFID is recognized as one of the top manufacturers in the global RFID market.
Based on products the United States RFID System Market Report 2018 splits into
And on the basis end users/applications, market is split into
Industrial
Retailing
Institutions
Events and Hospitality
Others
GAORFID offers a comprehensive range of RFID Readers, RFID Tags and Systems. We offer HF RFID readers and HF RFID tags, UHF RFID Readers and UHF RFID Tags and several other readers and tags for different frequency ranges. GAORFID readers and tags are available for industrial, retailing institutions, events and hospitality sectors.