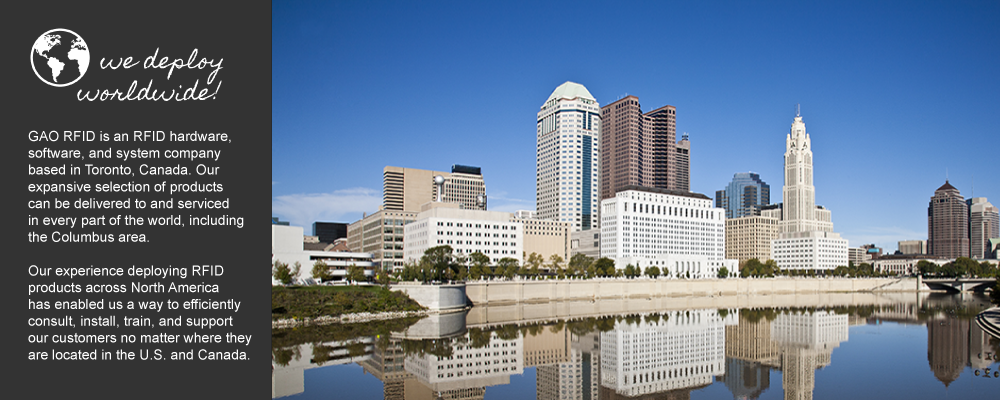 As the largest city in the state of Ohio, GAO RFID Inc. recognizes the unique characteristics of Columbus and its surrounding areas.  Affectionately known as The Discovery City, there is certainly much to be explored at every turn.  The rather large metropolitan area consists of 10 counties, including Delaware, Franklin and Licking.  Columbus is the third largest city in The Buckeye State — behind Cleveland and Cincinnati — with a population of over 800,000 people.
GAO RFID is proud to engage in business with this vibrant city.  Columbus is constantly bustling with economic activity all year round.  Some of America's largest corporations are headquartered here, including American Electric Power, Wendy's and White Castle.  The city was also named by Forbes as one of the 'Best Places for Business and Careers' in the United States.  GAO's Access Control RFID System is widely popular in cities with a similar economic landscape.  When it comes to security, our technology meets some of the highest standards in North America.  Whether it is for the hotel or auto dealership industry, use GAO's sophisticated badging system to restrict access to sensitive areas.  Closely monitor the movement of all visitors to your site, ultimately allowing you to decide who gets in and who doesn't.  Used with GAO's other RFID systems — including Parking Control and Asset Tracking — even the most complex infrastructures can enjoy the highest level of security without sacrificing on logistical efficiency.
The reason behind Columbus' success is the diversity in its economy.  Rather than focusing on one sector, the city has strong roots in a variety of fields including retail, education and medical research.  Businesses in Columbus can benefit from GAO's solutions, which are fully customizable depending on your needs.  Our Work in Progress RFID System is ideal for manufacturers trying to streamline their assembly operations.  Meanwhile, GAO's Asset Tracking solutions are perfect for companies looking to document the whereabouts of their inventory and valuables.  Our company will ultimately protect your bottom line by maximizing efficiency and cutting waste.  As always, good RFID tracking solutions are the foundation of a business' success.
Apart from those mentioned above, GAO offers a variety of other solutions that are highly valuable in Columbus.  They include, but are not limited to:
RFID Systems for Law Enforcement – Manage evidence and streamline security protocols for police officers, paramedics and other public personnel
Parking Control – Ensure safe parking for all users and integrate lot with rest of building's security protocol
Event Management Systems – Track attendee registration and maintain audience control
Our team consists of certified RFID professionals who are always one step ahead of the competition.  GAO RFID would be happy to introduce you to some of our finest technology.  So contact us today for a customized assessment of your business needs.  We look forward to hearing from you.
Our RFID systems and hardware are being used to improve productivity by these great organizations in Columbus:

Battelle is the world's largest nonprofit research and development organization, with over 22,000 employees at more than 60 locations globally. A 501(c)(3) charitable trust, Battelle was founded on industrialist Gordon Battelle's vision that business and scientific interests can go hand-in-hand as forces for positive change.
Learn  how our RFID Systems can be used in the Scientific Research & Development industry.

The Ohio State University's main Columbus campus is one of America's largest and most comprehensive. More than 58,000 students select from 15 colleges, 200 undergraduate majors, and 250 master's, doctoral, and professional degree programs attend. As Ohio's best and one of the nation's top-20 public universities, Ohio State is further recognized by a top-rated academic medical center and a premier cancer hospital and research center.
Learn how our RFID Systems can be used in the Education industry.

Founded in 2000, The Whitestone Group is a Service-Disabled Veteran-Owned Business providing full spectrum security and asset protection services to federal government agencies.
Learn how our RFID Systems can be used in the Security Services industry.