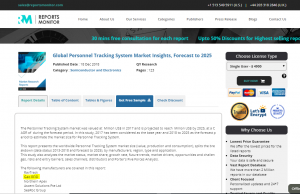 Global Personnel Tracking system market report studies value, production, and consumption of personnel tracking systems globally. Based on the historical data between 2013 and 2018, the personnel tracking system market is forecasted to 2025. Market status, market share, growth rate, future trends, market drivers, opportunities and challenges, risks and entry barriers, sales channels, distributors of personnel tracking system market are analyzed.
Key Manufacturers of personnel tracking system market are:
RavTrack
GAO RFID
Northern Apex
Ascent Solutions Pte Ltd
SeaRoc Group
Vilant Systems
Wavetrend
Borda Technology
AFC International
Aetos
LEAP Networks
Active RFID System
Trolex
Martec
Tieto
SEER Technology
inova
Tagstone
CoVar Applied Technologies
Koerr Inc
Identec Solutions
GAO RFID is recognized as one of the key manufacturers in the personnel tracking system market. The GAO RFID Personnel Tracking System is an integrated tracking solution which helps to monitor personnel in real-time, enables better workplace safety, increase productivity, allows tracking time and attendance.
https://www.reportsmonitor.com/report/248081/Personnel-Tracking-System-Market