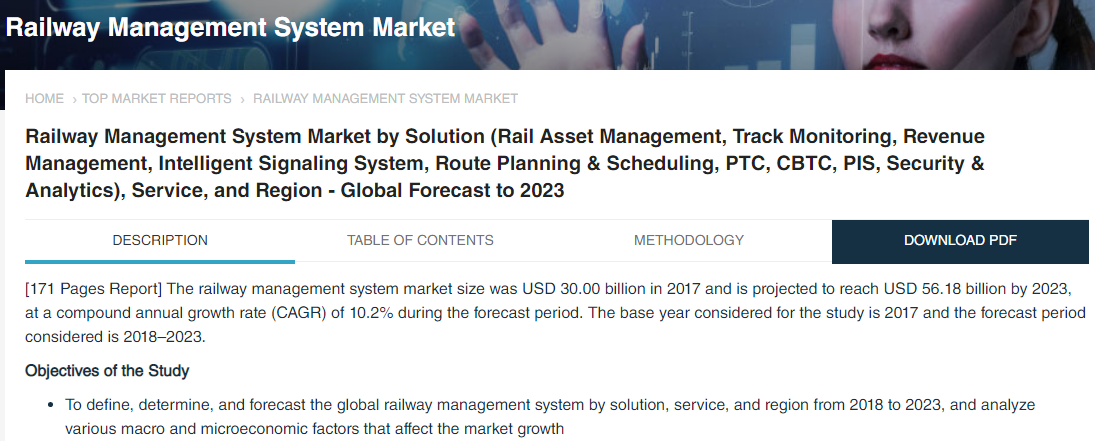 Railway Management system report provides an in-depth view of the Railway management system market. This report analyzes each submarket with respect to individual growth trends, prospects, and contributions in the total railway management system market. Railway management system market is expected to grow at 10.2% from $30 Billion in 2018 to $56 billion by 2023.
The key players in the railway management systems market are Hitachi (Japan), Bombardier (Canada), Huawei (China), Indra Sistemas (Spain), Atos (France), Toshiba (Japan), Tech Mahindra (India), Nokia (Finland), Ansaldo (Italy), Siemens (Germany), Thales (France), DXC Technology (US), ABB (Switzerland), Amadeus (Spain), Alstom (France), Cisco (US), Optasense (UK), IBM (US), General Electric (US), GAO RFID (Canada), EKE Electronics (Finland), Sierra Wireless (Canada), Eurotech (Italy), Frequentis (Austria), and Trimble (US).
The report recognizes GAO RFID as one of the key solution providers in railway management system market. The GAO RFID Railway Management System is a fully integrated rail transportation solution that helps to improve revenue, reduce costs while increasing customer service and safety. The GAO RFID railway management system has three key components:
GAO Railway Management Software
GAO RFID Railcar Tags, Proximity RFID Fare Cards
GAO RFID Readers
These three components work together to provide railcar location and monitoring functions and can be customized to address the needs of any railway infrastructure.
https://www.marketsandmarkets.com/Market-Reports/railway-management-system-market-193193339.html#